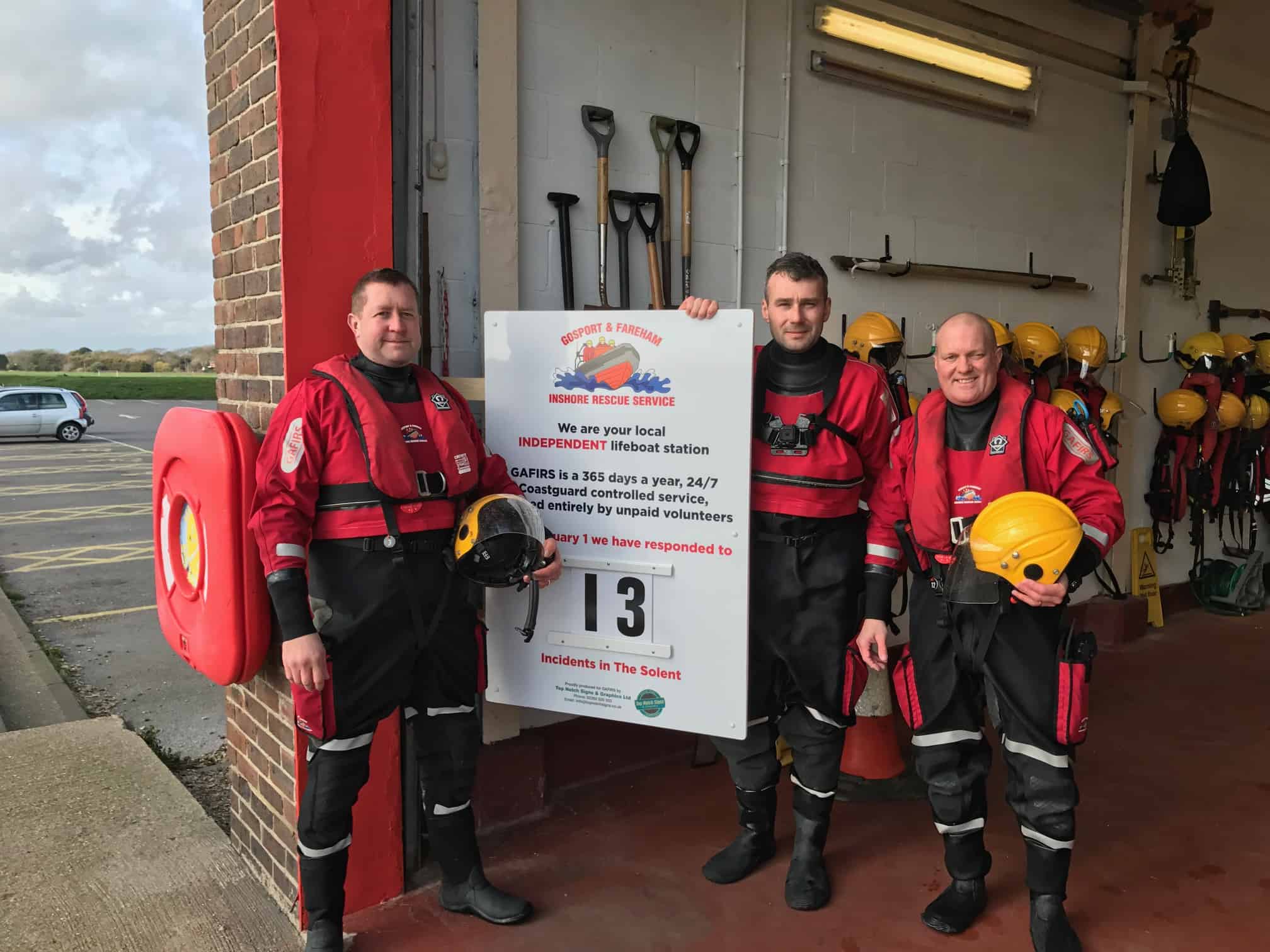 29 Mar

Signage firm steps in to help independent lifeboat clock up rescues

A sign company has used its expertise to create a new status board for an independent lifeboat station.

Top Notch Signs, based at Heritage Business Park, Gosport, created the sign for Gosport & Fareham Inshore Rescue Service (GAFIRS) which will be used to clock up the number of rescues the charity has attended.

Made from metal and sign-written by the specialist firm, the status board has now been installed at GAFIRS' lifeboat station at Stokes Bay, Lifeboat Lane, where it displays the number of incidents the volunteer crews have attended in the year.

GAFIRS fundraising officer James Baggott said: 'Members of the public often walk past our station when we're on duty and ask what we've been up to. Last year we decided to put up a hand written board with some information about us and the number of rescues we had carried out for the times we weren't there to chat to them.

'That sign soon become very popular but it was just handwritten on a white board so wasn't fit for purpose. I approached Top Notch Signs and they were more than happy to help. The board they've produced for us is brilliant and just what we wanted – and they did it all for free. We've very grateful indeed.'

Steve Houston, managing director of Top Notch Signs, said he was delighted to be able to help a local charity like GAFIRS.

'We were more than happy to help GAFIRS with this sign,' said Mr Houston. 'We provide signs to a huge number of companies so when GAFIRS contacted me I was delighted to use our expertise to help them out. I think the sign looks fantastic and it's great to see it installed at the station.'

The sign has been designed so the number of rescues can be easily changed with numbers slotting in place and GAFIRS will be updating it throughout the year.

So far this year, GAFIRS has been launched 13 times by UK Coastguard. GAFIRS is an independent lifeboat station based at Stokes Bay Gosport, run entirely by volunteers, on call to the Coastguard 24 hours a day, 365 days a year.