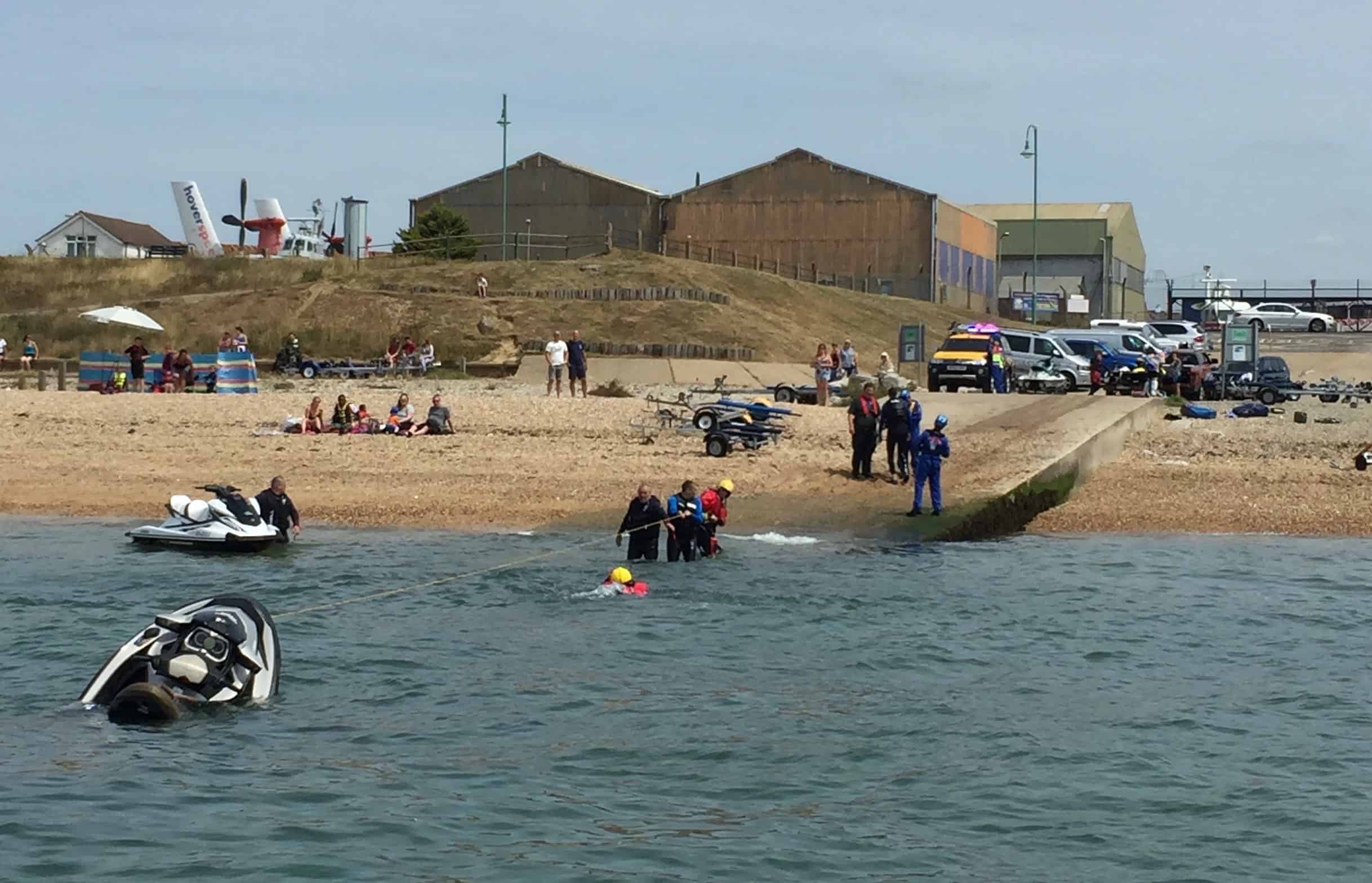 25 Jun

Burning jet ski and man with neck injury assisted by GAFIRS

A jet ski that burst into flames and began to sink and a man who sustained a serious neck injury were assisted by volunteers from a busy lifeboat station this weekend.

The first incident occurred around midday on Sunday, June 24, when UK Coastguard tasked Gosport & Fareham Inshore Rescue Service (GAFIRS) to assist a jet ski in trouble off Daedalus Slipway, Lee-on-the-Solent.

The jet ski had burst into flames and the owner had managed to extinguish the fire, however the craft was beginning to sink.

The Seafarers Sailing Club rescue boat was afloat at the time and managed to assist the jet-skier and when GAFIRS Lifeboat arrived on the scene, its crew helped get it ashore safely with the help of Hill Head Coastguard Rescue Team.
📟24/6/18 Whilst visiting the OP's room tasked to a person in the water from a sinking jet ski which had engine fire. Working with @GAFIRS the casualty was recovered to safety & assessed by the paramedic observer we had on patrol with us & no medical treatment required. #teamwork pic.twitter.com/32pPVfQfyF

— Hillhead Coastguard Rescue Team (@hillheadcg) June 24, 2018
Just after 2pm, a boat beached itself just outside the GAFIRS Lifeboat Station in Stokes Bay and requested help for one of its crew who had suffered a serious neck injury.
He had fallen awkwardly from a rubber ring that was being towed by the vessel.
GAFIRS crew man Jake Robinson – whose full-time job is a SCAS paramedic – treated the casualty.
He said: 'We placed the casualty in a neck brace and immobilised him onto a stretcher to isolate him from further potential spinal injury.
'Then a team from GAFIRS assisted in carrying the patient along the beach into the Lifeboat Station where I continued treatment until the arrival of an ambulance, who took the patient to hospital.'
The incidents were the 41st and 42nd of the year for GAFIRS, an independent lifeboat which is completely unconnected to the RNLI. For more information log on to GAFIRS.org.uk.