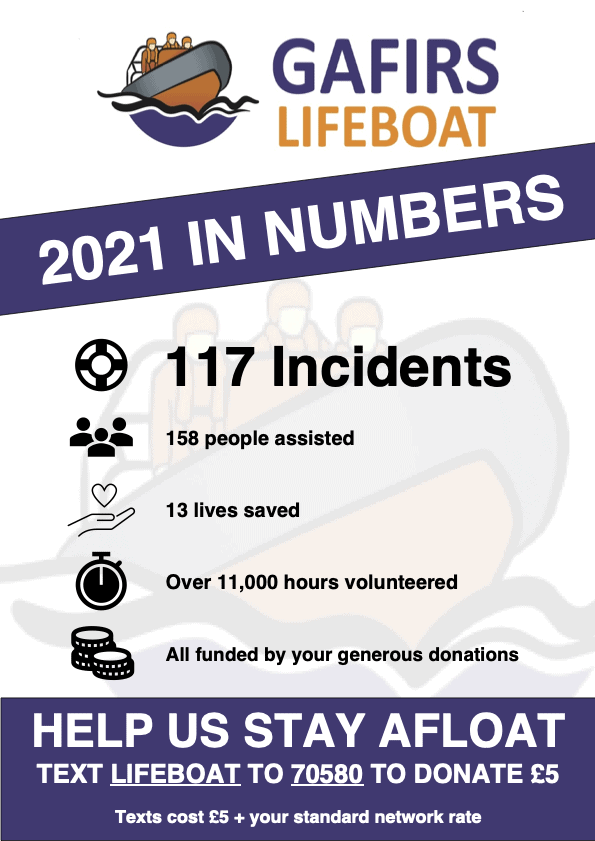 31 Dec

2021 Round Up

2021 has been the busiest year GAFIRS has seen for 11 years!

With 117 Incidents ranging from towing broken vessels, searches for missing persons, fires, sinking vessels and serious medical incidents including cardiac arrests. Our team has worked hard throughout the year, donating over 11,000 hours of their time to lifesaving and training, which we cannot thank them enough for. They've left family functions, workplaces and their beds in the middle of the night. A huge thank you to all our Volunteers and everyone who supports them.

All of this work can also not take place without the generous donations of the public. We are a fully independent Lifeboat Station and rely solely on public donations to operate our Lifesaving Service to the Coastguard, so thank you to each and every single person that has donated to us throughout the year.

We have lots planned for 2022 and are hoping it will see the return of our normal events to full strength. Thank to everyone who has supported the service this tear, and from the whole Team we wish you a happy and safe New Year.