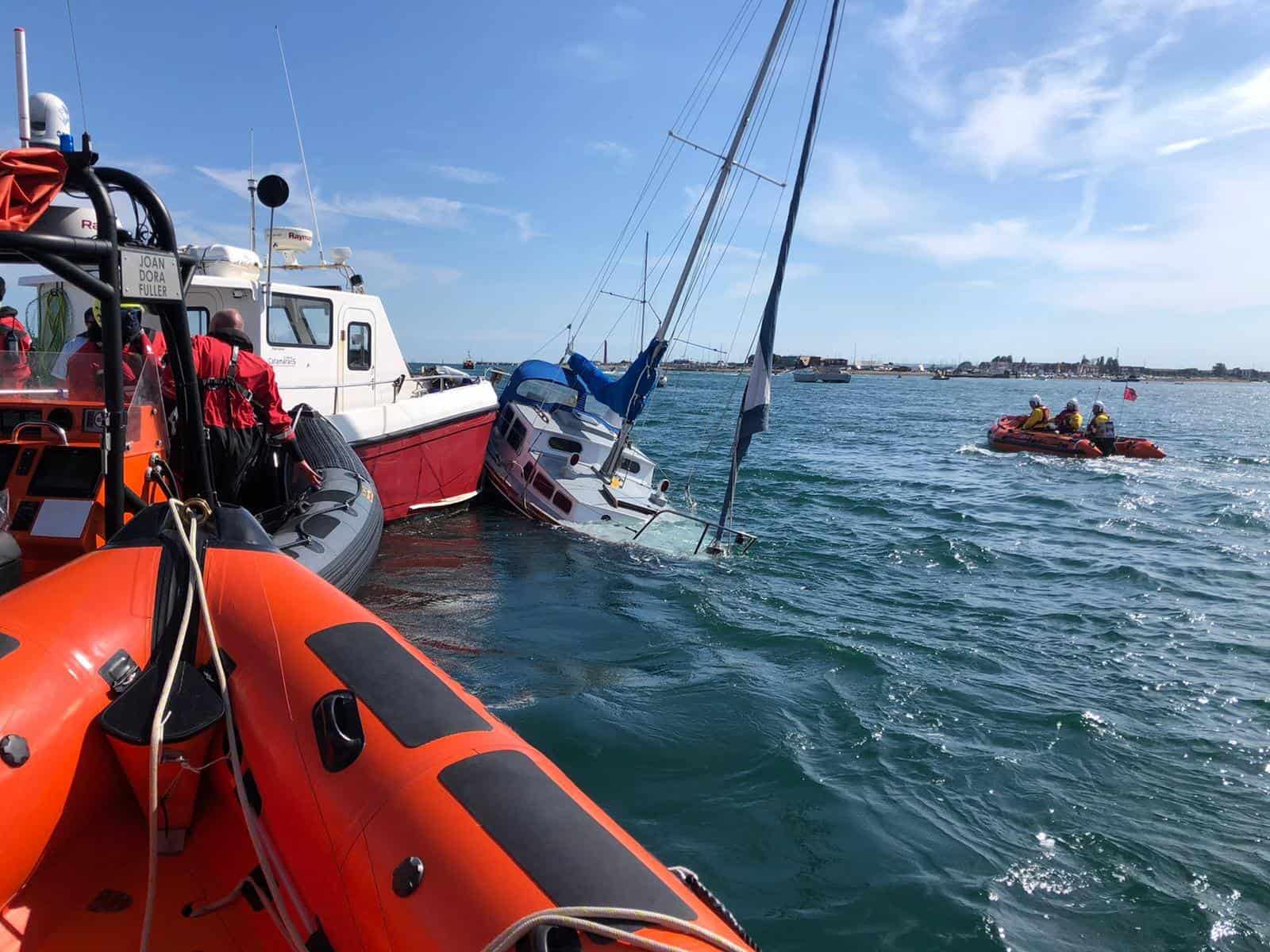 13 Jul

Collision and Sinking: Lifeboat Crews Respond to Calls for Help

Whilst on routine patrol and engaging in local area familiarisation training, Gosport Lifeboat (based at GAFIRS Lifeboat Station in Stokes Bay) overheard a MAYDAY RELAY broadcast reporting a two-boat collision close to its location, just inside the entrance to Langstone Harbour. GAFIRS proceeded on the request of HM Coastguard and was on scene within three minutes.

Upon arrival, a local Harbour Master was already on scene which had been able to recover the casualties from the vessel. It has become apparent that the primary casualty vessel had collided and become stricken on a mooring line attached to catamaran. Gosport Lifeboat placed Matt, one of its crew members with extensive experience in damage control, on board the casualty vessel to assess the situation. It became quickly apparent that the vessel was at immediate danger of sinking.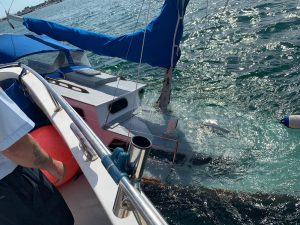 A salvage pump was started and the task to isolate electronics and gas and to locate the point of water ingress continued. Due to the incident location being outside Portsmouth Lifeboat Station, GAFIRS requested their attendance with additional salvage pumps to reduce the speed of the vessel sinking. Both of their boats attended scene shortly after to assist.
Despite aggressive efforts to slow rate of sinking, the location of the damage the (suspected hull-keel fracture) it became impossible to rescue and with the vessel now rapidly sinking, an anchor was attached to the casualty vessel to prevent it from drifting in the strong currents, it was also marked to warn other vessels of the danger. Unfortunately, despite a rapid response from the local harbour master vessel and Gosport Lifeboat, with the support of the RNLI, these efforts were futile and it sunk shortly after.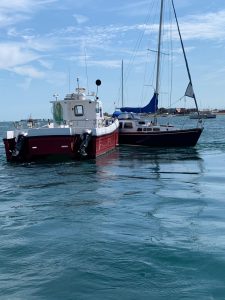 The second vessel involved (the catamaran which was attached to the mooring line) was safely removed from the situation and taken for damage inspection at a local marina.
The casualties were safe and well requiring no medical assistance.
This was the 28th Search and Rescue incident of 2020, the third attended this weekend.
– ENDS –
More information:
GAFIRS (Gosport and Fareham Inshore Rescue Service) is an independent lifeboat charity separate to the RNLI which provides emergency lifeboat cover to the Eastern Solent with their primary focus on Hill Head to, and including, Portsmouth Harbour.
During the pandemic, GAFIRS crews have provided a daily COVID community response service to Gosport Borough Council using their shore side support vehicle and additional vehicles loaned for free from Isuzu and Landrover. In total GAFIRS have responded to 572 incidents for GBC.
They are entirely funded by donations from the public and the entire service is operated by unpaid volunteers who contribute approximately 10,000 hours a year in total. GAFIRS also remains one of the busiest lifeboat stations in the country.