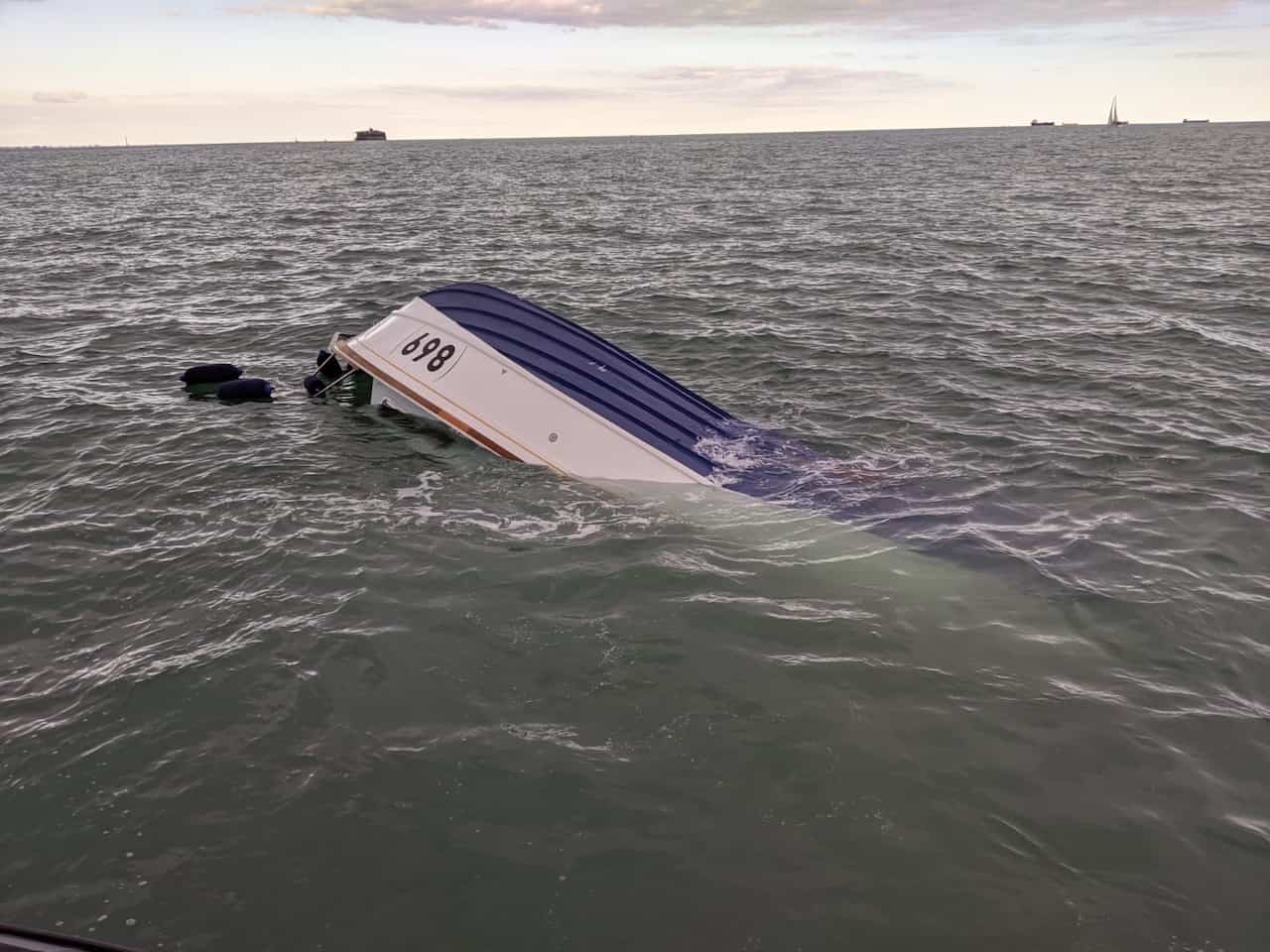 01 Sep

Two saved after boat capsizes and sinks in the Solent

Just before 6pm yesterday, lifeboat crews from Gosport and Hamble scrambled to a boat which was taking-on water and sinking rapidly between the Solent Forts and Ryde. The Lifeboat Crew from GAFIRS (Gosport and Fareham Inshore Rescue Service) based at Stokes Bay, were on scene within four minutes of the MAYDAY call being sent and were presented with the worrying sight of the vessel: upturned, three quarters submerged and surrounded by floating debris.

Duty GAFIRS Coxswain, Pete Byford said:
"Thankfully the two occupants, including a pregnant lady, were picked up moments before by another vessel who also heard the distress call, we placed a crew member on-board the assisting vessel to check on the welfare of the casualties who were shaken but unharmed.

After careful consideration and liaison with Queens Harbour Master, who are responsible for the safe passage of ships through these waters, it was decided to attempt to tow the sinking vessel away before it became completely submerged which would render it a hazard to shipping. "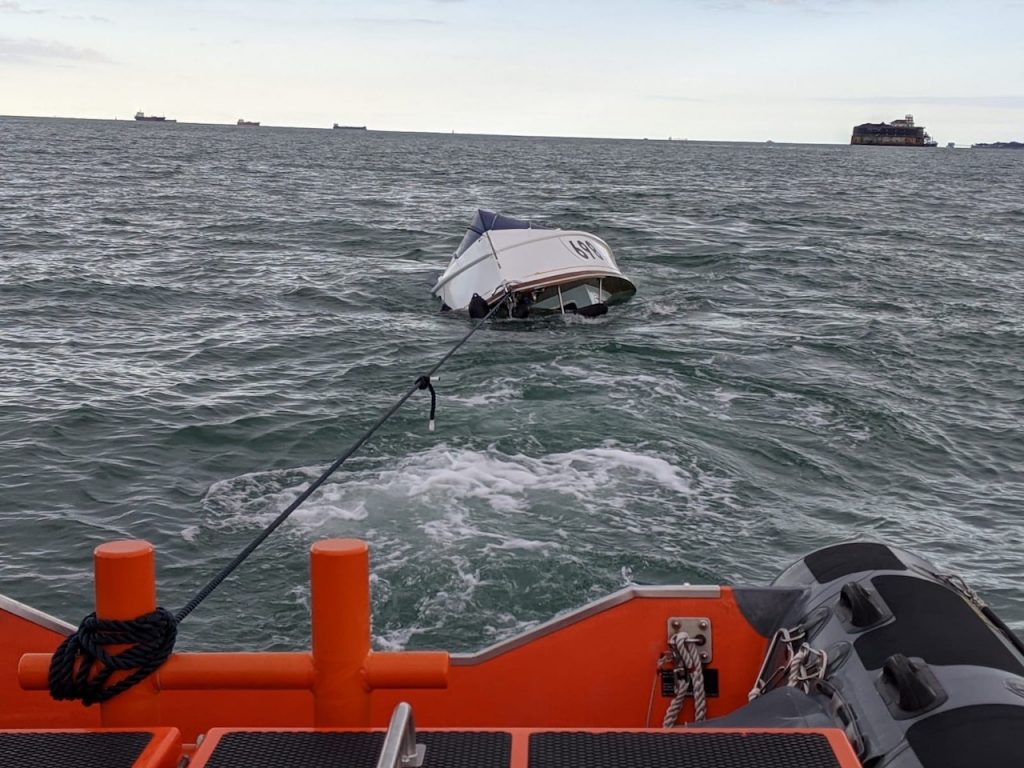 Hamble Lifeboat, which was also responding to the MAYDAY call, arrived and offered to take the occupants into Portsmouth Harbour to be met by an Ambulance for medical assessment.

After all the loose debris had been collected, Gosport Lifeboat attached a line to the vessel – which by now was completely submerged apart from two feet of the bow visible above the water – and began the slow, two hour transit away from the main shipping channel and towards GAFIRS Lifeboat station at Stokes Bay where a prolonged salvage operation began.

Having passed the casualties to South Central Ambulance Service, Hamble Lifeboat re-joined GAFIRS to offer assistance.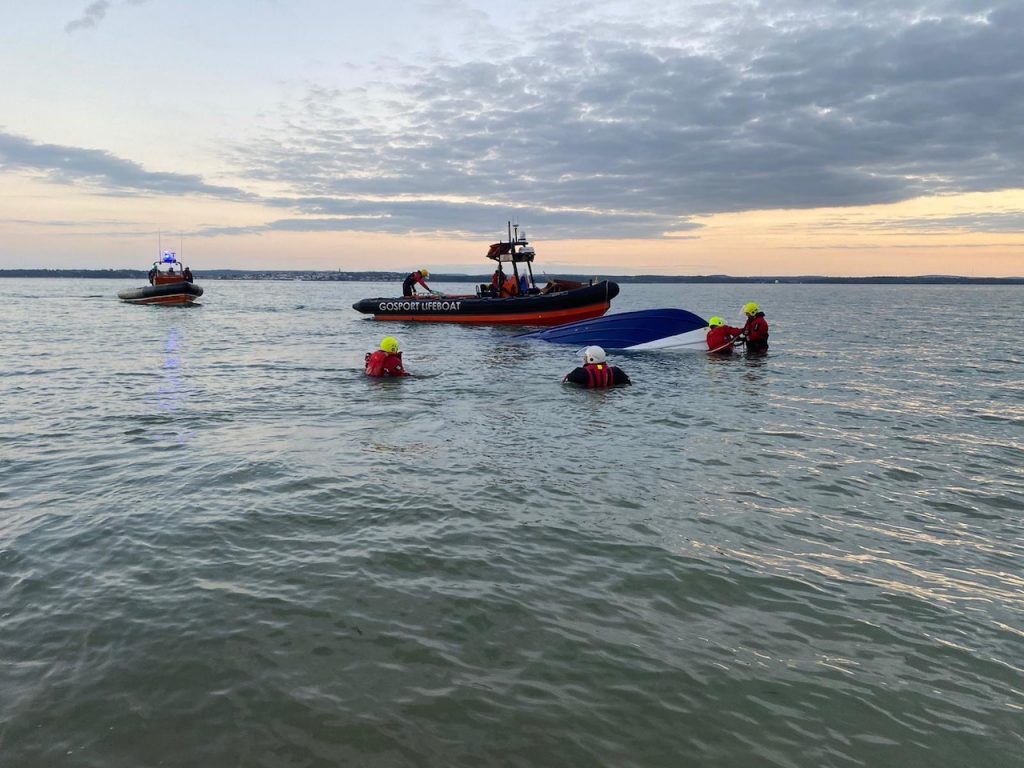 At around 20:00 local time, shore crews and Hill Head Mobile Coastguard Rescue Team, recovery lines were carefully attached around the damaged hull and the team were successful in bringing the swamped vessel up the beach, safely above the high water mark where it would no longer pose a threat to other traffic in the Solent.
Finishing at 22:00, the operation took just over four hours after a long day of training and other Coastguard taskings.
---
GAFIRS (Gosport and Fareham Inshore Rescue Service) is an independent lifeboat charity separate to the RNLI which provides emergency lifeboat cover to the Eastern Solent with their primary focus on Hill Head to, and including, Portsmouth Harbour.
During the pandemic, GAFIRS crews have provided a daily COVID community response service to Gosport Borough Council using their shore side support vehicle and additional vehicles loaned for free from Isuzu and Landrover. In total GAFIRS have responded to 572 incidents for GBC.
GAFIRS are entirely funded by donations from the public and the entire service is operated by unpaid volunteers who contribute approximately 10,000 hours a year in total. GAFIRS also remains one of the busiest lifeboat stations in the country.